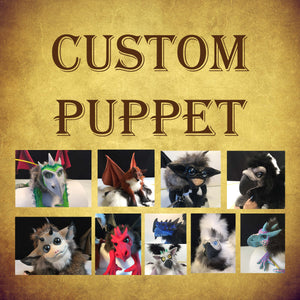 CUSTOM SHOULDER PUPPET - Elf
This listing is only available for Larry to purchase a customized elf puppet as discussed in email conversations. 
Strong earth magnets will be included in the body.
A painted harness (red) with white fur underside will be included.
To give him some life, his head will rotates via a hand-held wire mechanism. Click here to see other puppets in action on YouTube!
See more videos of our puppets & subscribe to our YouTube Channel here! 
 ** ALL COLORS CUSTOMIZABLE **  (LINK TO ORDER FORM here)
~~~~~~~~~~~~~~~~~~~~~~~~~~~~~~~~~~~~~~~~~~~~~~~~~~
~~~~~~~~~~~~~~~~~~~~~~~~~~~~~~~~~~~~~~~~~~~~~~~~~~
Since this is a new puppet type for us to create, it will take approximately 4-6 weeks to hand-make the creature after payment clears:
** Time does not include shipping.**
We will also investigate/price out clothing once the puppet is completed.
~~~~~~~~~~~~~~~~~~~~~~~~~~~~~~~~~~~~~~~~~~~~~~~~~~
~~~~~~~~~~~~~~~~~~~~~~~~~~~~~~~~~~~~~~~~~~~~~~~~~~


CUSTOMIZABLE OPTIONS

We are happy to match a costume or make a child's favorite animal. Many of our puppets shown were created by the request of a customer!
Perhaps you'd like a creature you don't see, like a unicorn or a phoenix - let us know and we can give you a quote.

Here are the features you can customize to your liking:
1. Clay color (body, arms, legs, head)
2. Fur color (Choose rabbit or faux fur)
3. Scale colors (2 colors for this puppet; 3 available at additional cost)
4. Wings (leather, feather, or no wings)
5. Head shape
6. Eyes (Yellow marble eyes are shown, but ceramic eyes in various colors with pupils are also available.)
7. Magnets or Harness (optional)**
Just complete the Puppet Customization Form here and it will be emailed to us with your order.


YouTube videos
https://youtu.be/wL6iWTQR9xI - blue dragon with 2 colors of fur
https://youtu.be/h5-IVmbc6xo - green winged dragon with scales
https://youtu.be/pVWX8-ep2Hg - purple dragon
https://youtu.be/h4CdMj9q2GM - Ice lemur bat


PLEASE CONSIDER PHOTO AN EXAMPLE
UNIQUENESS: VARIATIONS IN COLOR OR EXPRESSION

Each puppet will be extremely similar to the photo shown; however, because each puppet is a handmade piece of art, shaped forms, as well as color shades, tones, and markings, may vary slightly from photo (color may also vary due to variation in dye lots or your computer's resolution).

Head shape, fur shade/placement, feather size/shape, markings, eyes, glitter work, glue placement, etc. may be a bit different on each puppet. You have the option of choosing real or faux fur, feathers, scales, number of horns, wings/wingless to make this your own, unique, special creature / pet!

Some puppets have leather wings or accessories. Leather (and feathers) are natural products, and each individual hide / feather has a slightly different character. Natural markings, tone/color variations, and slight imperfections such as scratches, scars, or wrinkles should not be considered defects, but rather part of the character and beauty of natural leather.

"Gold, Silver, Pewter, Bronze, Copper" etc. are color names or descriptions for paint, clay, or appearance and may not actually be made of those materials.


TERMS OF SALE
Folor's Fantasy holds the artistic & intellectual property rights to any item made, designed or sold by Folor's Fantasy.  Folor's Fantasy holds the right to reproduce and sell any custom design or custom item. 
By ordering, you are agreeing to our posted shop policies, and are accepting the full description here. You also accept that there may be variations in expression from the photos provided (because it is handmade-to-order). 


SHIPPING
We ship USPS Priority mail 
Please read our shop Shipping Policies before ordering for information about shipping upgrades, estimated delivery times, shipping to another address.

* This is a delicate, fragile item. Trims, fur or feathers may become loose and have to be adjusted after shipping. This is normal. However, if by an unfortunate event the puppet is damaged during shipping, please notify us within 5 days of receipt with an attached photo of the damaged puppet and of the shipping label from the box you received. If we ask that you return the puppet, we will send you a return shipping label or refund your cost to ship it back to us for repair. Upon our receipt of the damaged puppet, we will make a brand new one for you and ship the new one to you for free.



BROWSE THE SHOP
See more puppets or my leather masks!
https://folors-fantasy.myshopify.com


---
We Also Recommend
---